Amerina Irma Antonecchia Sardella 1935-2022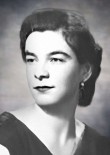 It is with deep sadness that the family announces the passing of AMERINA IRMA ANTONECCHIA SARDELLA on Sunday, December 25, 2022 at the age of 87. beloved wife of the late Angelo Sardella. She will be sadly missed by her loving children Michelina (Mitch), Emilio and Nancy (David), her cherished grandchildren, Adam (Chloe), Olivier and Ryan (Vanessa). She also leaves behind her sister Antonietta, her sisters-in-law Angelina, Rosina and Annunziatina and her brother-in-law Carmine, as well as many other nieces and nephews, relatives and friends.
Visitations will take place on Thursday, December 29th, 2022 from 2 p.m. to 5 p.m. and 7 p.m. to 9 p.m. at the Magnus Poirier Funeral Complex, 6825, Sherbrooke Street East in Montreal.
A funeral service will be held on Friday, December 30, 2022 at 10 a.m. at the church Marie-Auxiliatrice of R.D.P. thence to Le Repos St-François d'Assise Cemetery.
Comments on how she touched our lives, are being posted on the Frosolone, Isernia Facebook Group Page.
Frosolone, Isernia
Link Utili

Comune di Frosolone (IS)
---

---
Frosolone, Isernia
---
Consolato Generale d'Italia a Montreal
---

Congresso Nazionale degli Italo-Canadesi