ANTONITTI, DONATO 1926 - 2014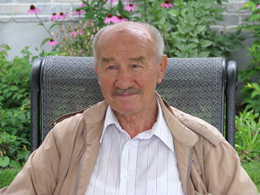 Donato Antonitti peacefully left us on Sunday, June 1st, 2014. He leaves to mourn his wife Maria Zampini, his children Carmelina (Pierre) and Tony (Tina), grand-chidren Anthony, Samantha, Arianne and Camilia, and family and friends.
Magnus Poirier 222 boul des Laurentides, Laval
Visiting Hours
Thursday 5 June 2014 2:00-5:00 and 19:00-22:00
Friday morning as of 9:00
The funeral will take place on Friday 6th June 2014 at 11:00 at Chiesa Madonna di Pompei and from there to cimitero Notre-Dame-des-Neiges.
Montréal June 3, 2014 - Comitato dell' Associazione Frosolonese Inc.
Comments on how she touched our lives, are being posted on the Frosolone, Isernia Facebook Group Page.
Frosolone, Isernia
Link Utili

Comune di Frosolone (IS)
---

---
Frosolone, Isernia
---
Consolato Generale d'Italia a Montreal
---

Congresso Nazionale degli Italo-Canadesi