Felicia Mangione Di Nezza 1918 - 2015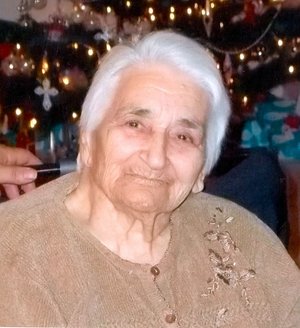 In Montréal,on January 3rd, 2015, at the age of 97 years, Felicia Mangione Di Nezza passed away. Felicia is survived by her children: Antonio (Giuseppina), Domenic (France) and Eugenio (Ornella), her grandchildren, her great grandchildren, her sister Angelina, nieces and nephews and many relatives and friends.
Urgel Bourgie : 6700 rue Beaubien Est, Montréal
Visiting Hours:
Wednesday January 7th, 2015 02:00PM - 5:00PM and 07:00PM - 10:00PM
Wednesday January 7th, 2015 09:00AM - 10:30AM
The funeral will take place on January 8th, 2015 11:00AM at the following address.
Chiesa Marie Auxiliatrice, 8550 avenue Joliot-Curie, Montréal, Québec, H1E4C3
Montréal January 4th, 2015 - Comitato dell' Associazione Frosolonese Inc.
Comments on how she touched our lives, are being posted on the Frosolone, Isernia Facebook Group Page.
Frosolone, Isernia
Link Utili

Comune di Frosolone (IS)
---

---
Frosolone, Isernia
---
Consolato Generale d'Italia a Montreal
---

Congresso Nazionale degli Italo-Canadesi