Zampini Ianiro, Lucia Rosa 1934 - 2015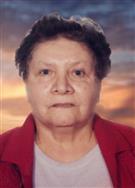 In Montreal on July 18th, Lucia Rosa Ianiro Zampini, beloved wife of Domenico Zampini (1928-2014), passed away. Lucia Rosa leaves behind her loving children Anna and Liborio, son-in-law Domenico, grand daughter Alessia, sister Maria Stella and other family and friends.
Complexe Funéraire Magnus Poirier: 10300 boul. Pie IX
Visiting Hours
Friday, July 24th, 2015 from 2 to 5 and 7 to 10 p.m.
Saturday, July 25th, 2015 from 9:00AM to 10:15AM
The funeral will take place on Saturday, July 25th, 2015 at: Our Lady of Pompei Church at 11 a.m. followed by burial at Repos St-Francois D'Assise
Comments on how she touched our lives, are being posted on the Frosolone, Isernia Facebook Group Page.
Frosolone, Isernia
Link Utili

Comune di Frosolone (IS)
---

---
Frosolone, Isernia
---
Consolato Generale d'Italia a Montreal
---

Congresso Nazionale degli Italo-Canadesi