Terriaca, Filippo 1942 - 2014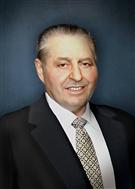 Peacefully left us on Thursday, June 12th, 2014. He leaves to mourn his wife Maddalena Colarusso, his son Felice, his pride and joy grandchildren Matthew and Francesco, his sister Carmela, his brothers Giuseppe and Domenico and many friends and family. In lieu of flowers a donation in his memory to the Canadian Cancer Society would be appreciated.
Magnus Poirier Funeral Complex , 10300 Pie-IX Blvd, corner Fleury,
Visiting Hours:
Sunday June 15, 2014 02:00PM - 5:00PM and 07:00PM - 10:00PM
The funeral will take place on June 16th, 2013 11:00AM at the following address.
Chiesa Madonna di Pompei
Montréal June 13, 2014 - Comitato dell' Associazione Frosolonese Inc.
Comments on how she touched our lives, are being posted on the Frosolone, Isernia Facebook Group Page.
Frosolone, Isernia
Link Utili

Comune di Frosolone (IS)
---

---
Frosolone, Isernia
---
Consolato Generale d'Italia a Montreal
---

Congresso Nazionale degli Italo-Canadesi